In 2013, The Field Museum worked with Smart Energy Design Assistance Center (SEDAC), an applied research program at the University of Illinois at Urbana-Champaign supported by the Illinois Department of Commerce and Economic Opportunity (DCEO)Illinois Energy Nowprogram, to conduct an energy audit and identify opportunities for energy efficiency savings and reducing the building's energy footprint. To learn more, see a SEDAC case study describing the project.
Air Conditioning
The Museum utilizes a chiller/thermal storage system, which keeps the building's climate cool in the warmer months and ensures proper humidity for the collections year round.  The system works by producing ice during evening hours when citywide demand for energy is lower.  The ice is placed in thermal storage containers, and water flow introduced.  Air is blown around the containers and then circulated through the building during the day.  This reduces the Museum's impact on the region's grid system and prevents brownouts, as air conditioning usage is highest during mid-day.
Solar Power
The Museum has a 99.4 Kilowatt photovoltaic solar array on its roof.  An average residential solar array is between 2 and 4 Kilowatts, so the Museum's is pretty substantial.  In fact, when it was installed in 2002, it was the largest solar array in Illinois.  You can see The Field Museum's solar array producing electricity in real-time.  For more information, there is an article in "Energy Seeds," a blog maintained by the Illinois Clean Energy Foundation.
Interested in learning more or getting involved with the push for clean, renewable energy?  Please visit the websites of local advocacy organizations:
Midwest Renewable Energy Association (MREA)
Illinois Solar Energy Association (ISEA)
Illinois Clean Energy Community Foundation
Renewable Energy Credits
The Museum is currently committed to using green power by purchasing Green-e® Energy RECs for 100% of its electrical and natural gas usage in addition to its solar array's output.  RECs (renewable energy credits) represent the environmental benefits associated with generating electricity from renewable energy sources and are the primary way that green power is tracked and traded around the world.  A wind farm generates one REC for every 1,000 kilowatt hours (kWh) of electricity it produces, or 1 megawatt hour (MWh).  Green-e Energy, the leading consumer protection agency for environmental certification of green power, ensures that the REC is not double counted.  The clean energy is then fed into the national electrical grid.  RECs are the industry standard for accounting for renewable energy production.
Lighting
Natural lighting almost exclusively lights the largest and busiest hall in the Museum, Stanley Field Hall.  When the Museum was built in 1921, there were six light wells that provided solar lighting throughout the building.  Over the years, these light wells were covered over to provide more storage for the Museum's vast collections (the Museum has approximately 30,000,000 specimens!), which in turn freed up space for exhibition galleries.  The Museum works diligently to provide artificial lighting as efficiently as possible while also serving its educational mission for guests, staff and visiting researchers.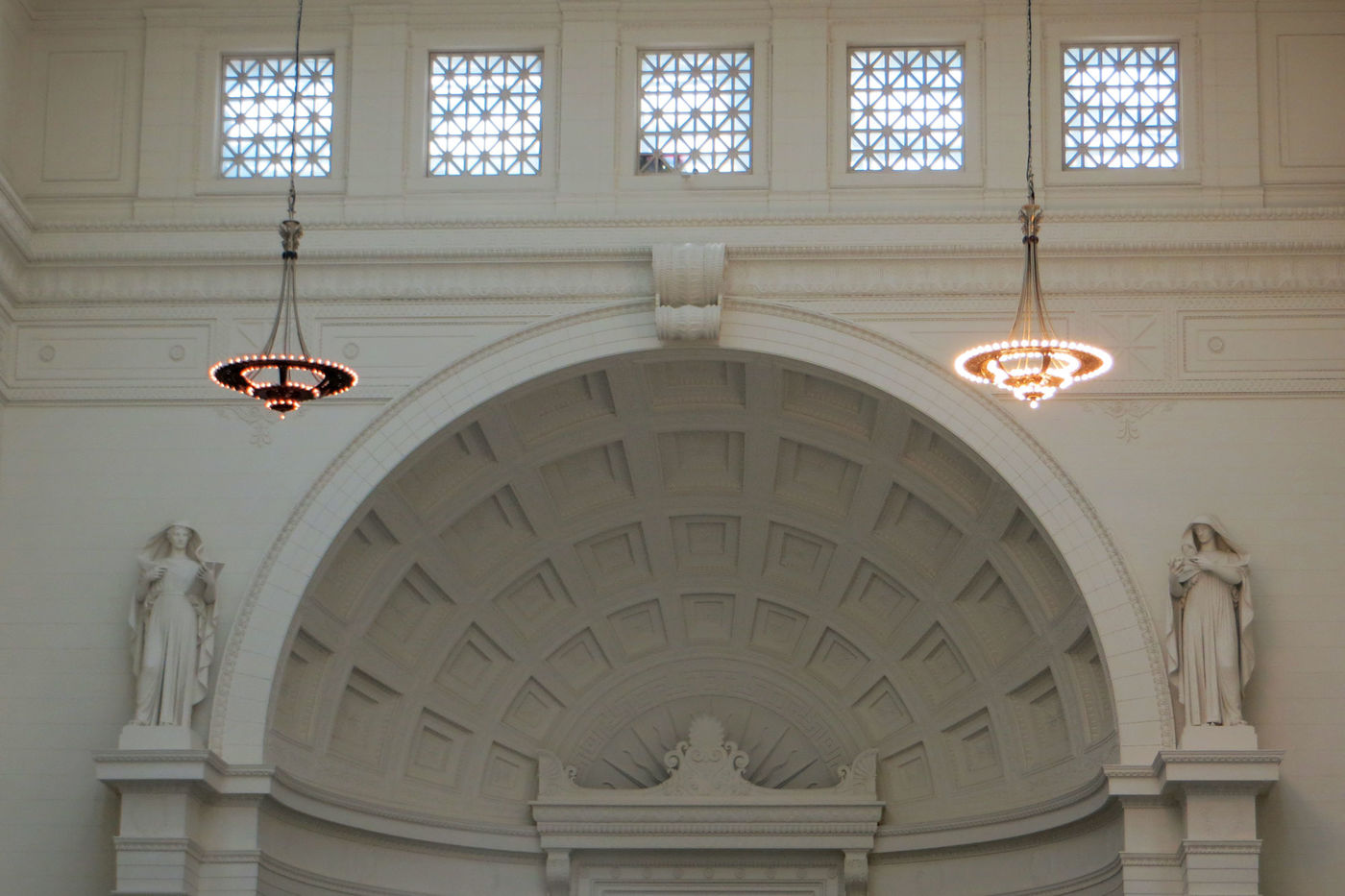 The Museum has seen an energy savings of up to 40% with these modifications:
Learn more about energy efficiency, water conservation and improving the indoor environment by visiting the U.S. General Services Administration's (GSA) Sustainable Facilities Tool.  The Sustainable Facilities Tool was created to help facility managers, purchasing agents, designers, landlords and tenants green their buildings, purchases, and operations. A recent addition to the site is Green the Building, a free interactive game designed for building professionals as well as the general public, since most people spend 90% of our time in buildings and can all contribute to creating more healthy, comfortable, and affordable buildings.
Green the Building places you in the role of Team Lead, charged with greening buildings through strategic Energy, Waste, Water, and Occupant Satisfaction improvements given a limited budget.
Make tough choices from among action cards that include: Lighting, HVAC, Water, Workplace, Practices, and Bundles.
Face random events, including extreme temperature change and employee turnover, that challenge your ability to plan ahead.